Sudoku Math Puzzles
As it is, experts advise adults to encourage children to solve puzzles like math sudoku math puzzles to start mental improvement earlier in life.
Sudoku exercises are actually adopted by some schools to stimulate thinking and foster better academic performance of their students.
Not sure how to do sudoku? Not to worry. We all have to start somewhere. Click for easy directions for How to Do Sodoku.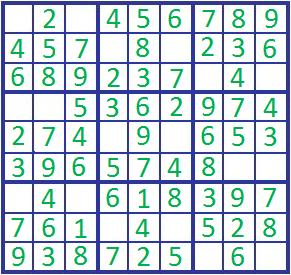 Sudoku Puzzle #1: Just print this sudoku puzzle and enjoy solving.
Hand a child a few of these math puzzles, and you just might be surprised at just how much they will enjoy them!
Even students that may struggle with math, will find that they can still solve and enjoy sudoku puzzles! And that's one of the best things about these puzzles!
Let's say a student struggles with their basic addition facts, sudoku puzzles will help strengthen those math fact skills.
The best part is once they start doing the puzzles, it's easy to get them to do them either after school or even during math class.
Warning!: Sudoku can be addictive!
---
Keep in mind that playing sudoku can improve your child's critical thinking, math, and logic skills. These puzzles vary in level of difficulty and can provide fun for students of all ages.

---
Return from Sudoku Math Puzzles to Math Puzzles