Math Computer Games
So what's the big deal with math computer games! 
Everyone knows how much kids love playing video games. If given a choice between playing video games or building math skills, most kids would choose a video game every time. Bringing the two worlds of video games and math together, opens up a whole new way for kids to learn and enjoy math!
Timez Attack is a really cool 3D Video Game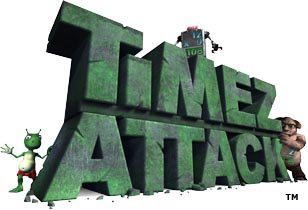 About Timez Attack
Timez Attack is a math computer game that teaches times tables. But not the old-fashioned way - it turns drilled-multiplication practice into an entertaining and highly graphic-intensive 3D video game. The player must solve multiplication problems as they move through a maze, repeatedly and with increasing difficulty.
The game was created by real 3D-video game designers, who now dedicate their time to pushing their creative limits with a math computer-video game on par with the likes of Playstation 2 that kids are know and really really love!
They've even added games for the other three math operations; addition subtraction, and division. 
How much does it cost?
Playing the Game
The game starts off with the player locked deep underground in the dungeon of Ignorantz. To escape, the player must find the keys to a series of doors by answering a times-table math fact for each door.
But wait, there's more....
To open the doors, a player must also capture creatures that hold math clues to the equation on each door. Behind the doors, the player runs into ogres or some other creatures that challenge them to answer a series of problems already covered to ensure the player has mastered those problems.
You can check out a short 2 and a half minute video below that gives a quick overview.  
Kids and Video Games
"A nationally representative study found that the average American 8-to-18 years old, play video games for 13.2 hours per week...."
And I know parents personally, who say 13.2 hours a week is too low an estimate for their child. And if they weren't nagging at them to "Get Off Of That Video Game!", it would be higher still.
So I guess when it comes to video games and building  math skills, kids can have their cake and eat it too!  
The average kid will be thrilled to play Timez Attack. You won't to have to plead with them to practice their multiplication facts!  Believe it or not, you may have to tell them to stop playing Timez Attack.
That's because all computer math games are not created equal! And Timez Attack happens to be one of those computer math games that's not created equal!
Why should kids play the computer math game - Timez Attack: 
Improves their Multiplication Memory 

Increases their Multiplication speed

Improves their Math Scores

Boosts their Confidence  
The results are in......
The picture shows the before and after results of 3rd, 4th, and 5th graders who played Timez Attack and the numbers speak for themselves.
So if this sounds AWESOME and you want a real 3D video game that will revolutionize the way your child learns their math facts – Timez Attack is the real deal and it's for you!
The thing is this – kids are going to play video games whether we like it or not. And what parent wouldn't want their child to play games and have fun.  But as parents, we know there needs to be balance. 
---
Go to main Multiplication Games page
Return to Learn With Math Games Home